---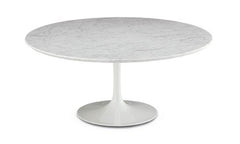 Eero Saarinen Tulip Table - Round Coffee 20 Inch
From $465.00


Eero Saarinen
(1910 – 1961)
Born in Kirkkonummi, Finland. Saarinen studied in Paris and at Yale University, after which he joined his father's practice. Eero Saarinen initially pursued sculpture as his art of choice. After a year in art school, he decided to become an architect. Much of his work shows a relation to sculpture. Saarinen showed a marked dependence on innovative structures and sculptural forms, but not at the cost of pragmatic considerations. Eero Saarinen's architectural works dot the landscape of the United States.  Such works as the TWA Terminal at John F. Kennedy Airport and Dulles Airport are two of the achievements that have continued to be considered treasures of the 20th century.   Saarinen's tulip tables and matching chairs are perhaps his most enduring furniture designs.  These items are available in a wide range of finishes and sizes from Bauhaus 2 Your House.
Eero Saarinen Tables and Furniture
View our entire collection of Eero Saarinen furniture today. We have a large range of Saarinen tables, chairs, loveseats, lounge chairs, poufs and more. Bauhaus2YourHouse is proud to carry pieces influenced by this talented designer. Much of his furniture reflects his sculptural beginnings and dependence on innovative structure. Saarinen tables and furniture are truly distinct in both its shape and style.
Take advantage of FREE SHIPPING and NO SALES TAX on all Saarinen tables, chairs, sofas and other furniture..